Dandelions
The easiest to recognize if the dandelion, in the spring they show their bright yellow buds. You can eat the entire thing raw or cook them to take away the bitterness, usually in the spring they are less bitter. They are packed with Vitamin A and Vitamin C, and beta carotene.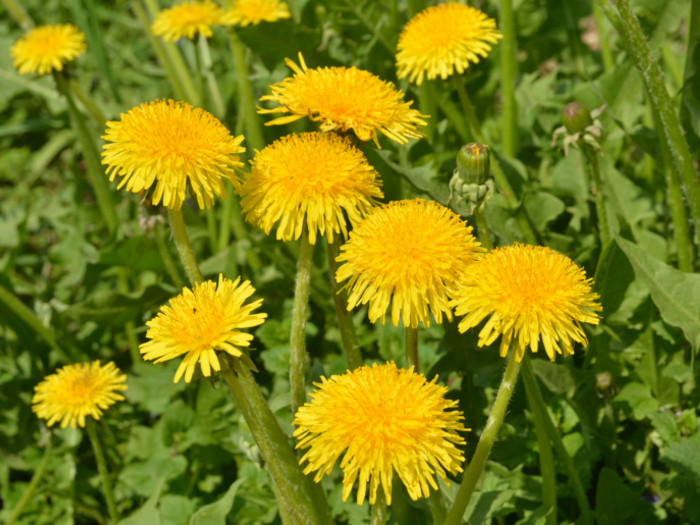 Dandelions are harvested from the wild or grown on a small scale as a leaf vegetable. The leaves (called dandelion greens) can be eaten cooked or raw in various forms, such as in soup or salad. They are probably closest in character to mustard greens. Usually the young leaves and unopened buds are eaten raw in salads, while older leaves are cooked. Raw leaves have a slightly bitter taste. Dandelion salad is often accompanied with hard-boiled eggs. The leaves are high in beta-carotene, vitamin C and iron, carrying more iron and calcium than spinach.
Dandelion flowers can be used to make dandelion wine, for which there are many recipes. Most of these are more accurately described as "dandelion-flavored wine," as some other sort of fermented juice or extract serves as the main ingredient. It has also been used in a saison ale called Pissenlit (the French word for dandelion, literally meaning "wet the bed") made by Brasserie Fantôme in Belgium. Dandelion and burdock is a soft drink that has long been popular in the United Kingdom.
Another recipe using the plant is dandelion flower jam. In Silesia and other parts of Poland and the world, dandelion flowers are used to make a honey substitute syrup with added lemon (so-called May-honey). Ground roasted dandelion root can be used as a non-caffeinated coffee substitute.
Making Dandelion coffee
Dig up a lot of roots. Not just as few, as you're going to need many of them to make more than just one cup.
Wash your dandelion roots as best as possible.
Cut the roots in half lengthwise, and about as long as your pinky
If you have a dehydrator, put 'm in there for an hour, else, leave the pieces to dry in the sun until you're convinced they're really dried out.
Then, you can cut the pieces into a lot of small pieces and put them on an oven tray.
Roast the dandelion root for 30 minutes on 200°C. (392°F) The roots need to be brown and dried right through.
Allow the dandelion root to cool then finely grind, and roast a second time in an oven for 5 minutes on 180°C. Store in airtight container.
Put 6 tablespoons of dandelion coffee grinds into 500ml of boiling water and leave to steep for 30 minutes. Strain into a saucepan and reheat to desired temperature. Serve with milk and honey if so desired.
Alternatively: use the percolator on the fire. For stronger taste, brew the 'coffee' several times until you have the desired coffee strength. The more times you distill the coffee, the more passes the steam gets over the dandelion roots, the more chance it gets to absorb the taste and benefits.
Check here for another coffee recipy
More dandelion recipes
Information source:
https://en.wikipedia.org/wiki/Taraxacum_officinale